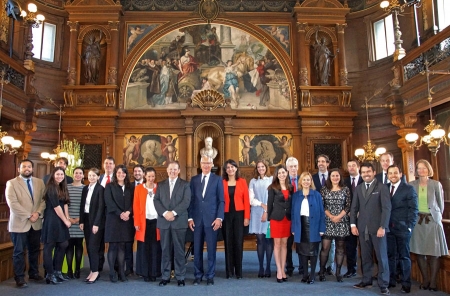 Master of Laws in International Law,
Investments, Trade and Arbitration
(L.L.M.) 2021 - 18th Year
Offered by the Faculties of Law of the University of Heidelberg and the University of Chile, with the academic support of the Max-Planck Institute for Comparative Public Law and International Law and of the Institute of International Studies of the University of Chile.


Objectives
The Programme aims mainly at offering a comprehensive analysis of current and prospective trends in the field of international law in an era of globalization, as well as in that of international trade and investments, and in the methods for arbitration and settlement of disputes in these areas.
The impact of globalization on sources and subjects of international law will be examined. Recent developments in the fields of the international economic law, the protection of the environment and State responsibility, as well as the relevant issues confronted in the international society over the last few years shall likewise be studied.
Emphasis shall be placed on subjects relating to the regulation of international trade, particularly the law of international trade, investments law and the settlement of disputes. In this context, special attention shall be given to subjects such as international arbitration, procedures before the World Trade Organization and ICSID.
Graduate Profile
The LLM provides conceptual and practical tools to strengthen the professional skills of graduates, which qualify for positions in international organizations, governmental agencies in international economics trade and foreign investment, legal advice in the negotiation and implementation of international agreements, as well as in the area of external relations. Graduates are also trained to perform advisory activities as well as to participate in international litigation and arbitration, and to give international investment advice in private law firms and nongovernmental organizations
---
This program was realized with financial support of the German Academic Exchange Service (DAAD) and the Ministry of Education and Research of the Federal Republic of Germany