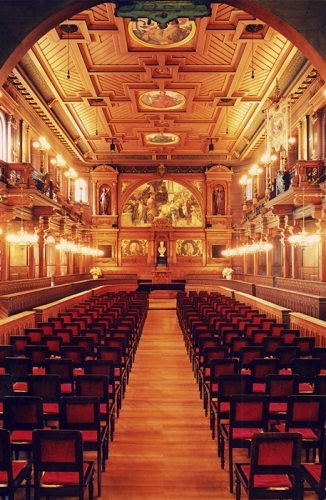 Organization
The Master´s Programme in International Law, with special reference to Investments, Trade and Arbitration is available to lawyers and graduates of juridical sciences on a worldwide basis.
The Master´s Degree in International Law (LL.M.) shall be awarded by the University of Heidelberg and the University of Chile. Once the compulsory period in Heidelberg has ended, the University of Heidelberg awards the title of Master of Laws in International Law (LL.M.), while the University of Chile awards the title of "Magister en Derecho Internacional, Inversiones y Comercio". Each institution delivers the title according to its internal regulations.
Participants obtaining the Master´s Degree in international Law will qualify for pursuing doctoral studies at the University of Heidelberg as long as they are chosen.
The Programme is organized on a yearly basis. Three terms shall be offered in Santiago de Chile, at the Heidelberg Center for Latin America. The curriculum includes a three month period for the preparation of the thesis. A final one month term shall be offered in Heidelberg, at the Max-Planck Institute for Comparative Public Law and International Law and the University of Heidelberg. During the latter, students shall participate in two workshops and complete their theses.
In Santiago the classes period will be divided into five modules; while during the Heidelberg term there will be two workshops. All courses are compulsory. The final exam (defense of thesis) for the Master´s Degree in International Law shall take place in Heidelberg. Defense of thesis may exceptionally be held in Santiago de Chile.
Courses will be conducted in either Spanish or English. Courses in the German language shall be available to participants free of cost.
The programme is taught in presence mode, unless unforeseen circumstances oblige us to switch to online mode.
Academic terms
The Programme shall start on April 6th 2021 and terms will be distributed according to the following schedule, corresponding to the Southern Hemisphere calendar:
Fall, Winter and Spring: from April to December 2021. Courses shall take place in Santiago de Chile.
Summer: from December 2021 to February 2022. Draft thesis.
Heidelberg Term: March 2022. Workshops and completion of thesis.
Class schedule
Tuesday to Thursday: 6.30 to 9.00 PM.
Some classes will be held on Mondays at the same time.
Deadline for application
January 15th, 2021
Starting Date
April 6, 2021
Academic Coordinator
Dra. Andrea Lucas Garín, LL.M.
andrealucas@hcla.uni-heidelberg.de
Fono: + 56 (0) 2 – 234 96 31